Kirstin Grace-Simons is reporting out of Joint Base Lewis-McChord (JBLM) with resources for mental and emotional stress resources for soldiers.
Many Service Members, retirees, military families and those who provide them care are feeling heightened emotions and stress, from a number of sources. An elongated battle against COVID-19, recent events surrounding the withdrawal of troops from Afghanistan and strained conditions within society are all contributing factors.
"We don't track by stressor, but I can tell you that between COVID, Afghanistan and some of the overall societal pressures, our utilization is high right now," said Lt. Col. James MacDonald, the chief of the Department of Behavioral Health.
Regardless of the origin, stressors that cause distress, debilitate or can even provoke thoughts of self-harm can be addressed.
"The wide range of reactions to everything that's going on is just that- a wide range. That's why we're highlighting the equally wide range of ways to get support," noted Dr. Dan Christensen, a psychologist and deputy chief of the DBH.
There are options for support at Madigan and across Joint Base Lewis-McChord. But, the most basic form of support is closer to home.
"Part of our ability to manage these emotions in a healthy way is related to the support that we hopefully all have around us. Staying connected and even discussing these emotions with family, friends or a battle buddy can provide a great deal of relief," MacDonald said.
Just as with those in the DBH, a chaplain will assess the degree of community of someone seeking support from them. "The biggest thing, in my opinion, is having relationship with others," said CH (Maj.) Stephan Buchanan, a chaplain and the deputy chief of the Department of Ministry and Pastoral Care.
When stressors add up and the natural support system cannot meet the challenge, there are many options for gaining additional support to work through tough times. Challenges can be small or very significant. They can add up over time. If the stressors in life are making daily life more difficult, consider talking to someone.
This year, the Department of Defense's suicide prevention theme, Connect to Protect: Help is Within Reach, highlights the important role that connects to family, friends, and the community, and resources can play in preventing suicide.
Suicide is the far end of the spectrum of disruption to everyday life that stressors can present. Many people might think that because they have never considered suicide, this discussion is not for them. But, everyone experiences stressors that can challenge their functionality and that could be aided by seeking some form of support.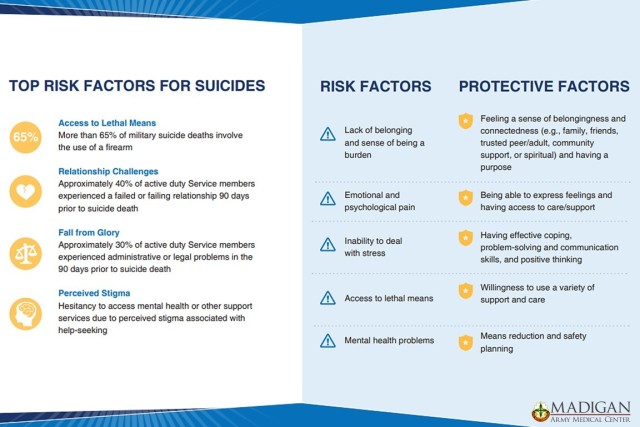 Challenges emerge during the COVID-19 pandemic
Naming the challenges
When things started to close down due to the coronavirus, MacDonald worried about the removal of coping mechanisms that closing and canceling events and activities meant.
"My concern was when we first went into COVID and were locking everything down, that's where you took a lot of those resilience and coping things away. Soldiers had less social time, less contact with family, inability to go to church services, less time in the gym – some of those things that would naturally protect were temporarily taken away," he said. And now, some are feeling distressed over mandatory COVID-19 vaccines. And, some have been experiencing grief from the death of colleagues, friends, family and loved ones.
Since therapy sessions can be conducted over webcam quite well, making appointments virtual did not have the impact on care that was seen in many clinics that rely more heavily on in-person care. Still, MacDonald suggested that there might be some demand for services that has built up during and because of the pandemic.
"There's some stress stuff related to this – financial impacts on soldiers who might have a working spouse at home, kids being at home more often when they weren't going to school. There's definitely some stress related stuff with all that," MacDonald noted. "We gave up the ability to predict about a year and half ago and now we're just taking it a day at a time." Limited additional BAH financial relief has been released by the U.S. Army in response. Read about that relief here.
Buchanan, a veteran of both Afghanistan and Iraq, turned his attention to moral injury – when you feel a sense of guilt for actions or circumstances faced in battle. Chaplains are well-equipped to speak to moral injury and how to relieve it. "That's pretty important to be able to tell what's hurting your heart to someone who's not going to judge you," said Buchanan.
Support options provided by JBLM
Because there are so many options, there is no single number to call. Though, the Suicide Prevention Lifeline is always there for anyone in need. Dialing 1-800-273-TALK (8255) will connect a caller to a trained person who is ready to listen and help find further support.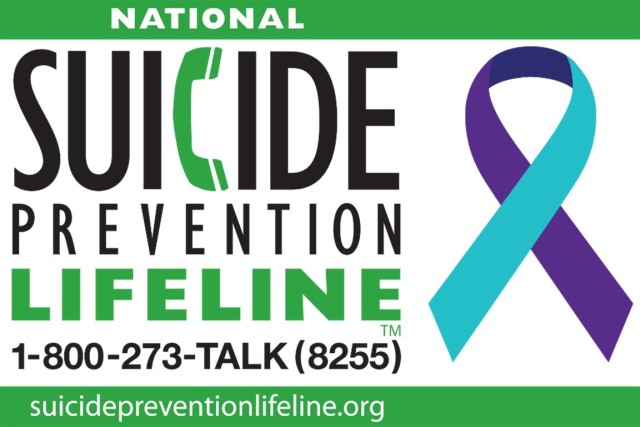 There are support groups within the community. Organizations like the Veterans of Foreign Wars, or VFW, and other options that may be found through the Department of Veterans Affairs can offer a place for Soldiers, Service Members and their families to find people who have shared their experiences.
These informal connections to community support groups may provide the non-judgmental ear that a person needs to deal with their own stressors.
MacDonald explained there are tiers of behavioral health care just as there are in medical care. If community and groups don't resolve the feelings of excessive strain, there are counseling options that are easily, and independently, accessed.
Service Members can find a Military and Family Life Counseling (MFLC) Program counselor embedded at the brigade level in units across the installation. This program provides "confidential non-medical counseling to the military community," according to the program's webpage. "These short-term, solution focused sessions can assist with issues such as managing stress, parenting, difficulty adjusting to new changes or life events, and improving home or work relationships."
Family members can also make use of MFLC resources by calling, (253) 293-2223 to speak to a male counselor, or 293-6214 for a female counselor.
Military OneSource is another outlet for a variety of support resources. Just as with MFLC, this is a confidential service. It offers non-medical counseling and specialty consultations with services including, "family and relationships, financial, legal, health and wellness, deployment and transition counseling."
"The thing about Military OneSource, as well as the Military and Family Life counselors is that does not end up in your military record," said MacDonald. "It's also sometimes more accessible where you would not have to go into a Behavioral Health clinic, they would meet you in a different location."
An oft-expressed concern Soldiers have over contact with Behavioral Health resources is that it will be input to their medical record and could, potentially, be used in career decisions down the road. Whether that actually happens to a Soldier or not, the perception is very real. It has surely slowed some from seeking the support they need.
These services being confidential makes them appealing for anyone concerned about this aspect. That is also a benefit that talking to a chaplain can offer.
"When you talk to a military chaplain, your session is privileged and confidential," said Buchanan. "Anything and everything you say as a matter of conscience is confidential."
In the Ministry and Pastoral Care office behind the chapel in the hospital tower at Madigan, anyone can call or walk in and talk to a chaplain. They offer a non-judgmental listening ear and will refer for other services, as needed.
Whatever the need, the easy access of the chaplains' office can provide fast relief to at least get started in finding help. "We know our limitations and we're not psychologists, we are happy to refer to Behavioral Health when needed, and we do," Buchanan said. "But, for that first aid, immediate help, it's a walk-in here."
Also, if it is a licensed counselor that is needed, JBLM Chaplain Service has that as well.
A Military Family Life Chaplain is an Army chaplain who holds a degree in marriage and family therapy and is licensed as a therapist. This chaplain can be found at the Four Chaplains Memorial Chapel.
Madigan's chaplains can assist with temporary aid for financial hardship, provide life skills training and help connect people to further services. Visit the DMPC webpage for more infomration.
As MacDonald pointed out, a big part of which option to choose will depend on what is bothering a person. If someone is having trouble with sleep, for example, they may find their best option is another avenue of support – the Holistic Health and Fitness System. H2F effectively combines other Army health campaigns – like Performance Triad, Go for Green, Army Wellness Centers, and others – into one. It adds resources and personnel at the brigade level to sustain these programs. In this example, the support seeker would likely benefit from a sleep assessment and sleep hygiene class.
Some of the key elements of this system can be found in an article by the Army News service. As the name suggests, Holistic Health and Fitness is meant to bring a comprehensive approach to overall well-being. The system focuses on forms of health to include sleep, nutrition and spiritual fitness, as well as mental and physical health. Read more about the system here.
Any of these options may be exactly the resource a person needs to resolve their issues. But, they may not.
"If these thoughts or feelings get to the point where they are really troubling or they start to really have an impact on a person's ability to carry out the responsibilities of life, then they may want to consider going to Behavioral Health," said MacDonald.
The DBH itself has a number of options.
Licensed clinicians located in primary healthcare settings provide behavioral health assessments and brief services. Any patient can discuss this option with their primary care manager. Additional information on the DBH can be found at was provided by JBLM here.
A Service Member can engage the services of their Embedded Behavioral Health in their unit. More information can be found here.
"We have all levels of care in this organization, everything from outpatient to inpatient care, psychiatric and substance abuse care," said MacDonald.
The DBH also provides medical management of behavioral health issues, as licensed clinicians can prescribe medications, should they assess them as useful in a person's therapy.
The highest level of care is inpatient. When a person is admitted to the hospital it is because they a danger to themselves or others are they are gravely disabled.
"Obviously, the one thing we certainly do want to make sure folks know that if we do have service members out there who are having thoughts of harming themselves or of harming others, then they really do need to see someone right away. In that case, they should report to their Embedded Behavioral Health clinic or, if after hours, they need to get to the Emergency Room to be assessed. If we are talking about a retiree or family members, they should go straight to the ER," MacDonald stated.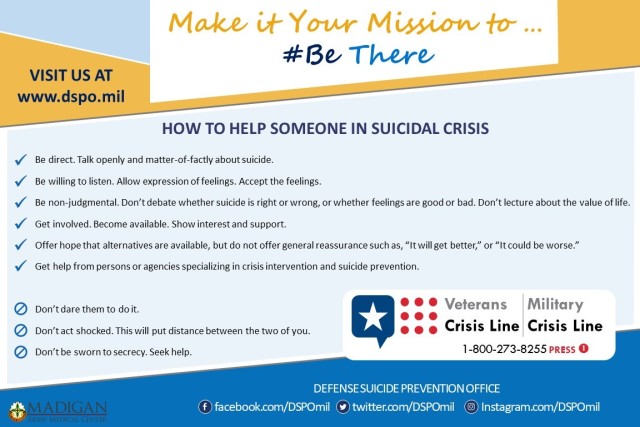 What a visit looks like at JBLM for therapy
Christensen detailed the variety of treatments possible within the DBH saying individual or group therapy sessions can be utilized. The therapists are trained in different types of therapy they can employ, based on their assessment of what will be most effective for the individual.
"There are three or four evidence-based for trauma. So, each of our therapists know at least one of those for trauma cases, some know three or four," said Christensen.
There is an intensive outpatient program for trauma for women in the military, for example. Madigan was chosen by the Defense Health Agency to be one of five sites, only two of which are military, to pilot that program.
"Typically, our starting point, if someone went to Behavioral Health is, they would be assessed to get a sense of what's going on with that person. From there, the treatment recommendations may be anything from meeting with a psychotherapist to possibly incorporating a prescriber, a psychiatrist or nurse practitioner, depending on the problem," MacDonald said.
While an informal support group would likely be more freeform, any type of counseling will begin with some type of assessment that determines the current situation and need of the individual.
"I don't have a formula where I talk about XYZ every time. You're going to tell me why you're here and then we're going to go from there. Every time it happens with a different person, it's going to be a different journey along the way. They guide the discussion," said Buchanan of the experience of gaining support from a chaplain.
The first step in finding relief for any behavioral or spiritual health problem is to seek help, just like with a physical health issue.
JBLM suggests reading the firsthand account of CH (Maj.) Buchanan's experience dealing with stressors from deployment.
"Help and recovery start with acknowledging you need help and then asking for help. And then, we're here to help you," Buchanan said.
MacDonald echoes that advice in talking about the need to address challenges.
"If these thoughts or feelings get to the point where they are really troubling or they start to really have an impact on a person's ability to carry out the responsibilities of life, then they may want to consider going to Behavioral Health," he said.
The EBH system for meeting the behavioral health needs of Service Members came about in 2012 as an outgrowth of the heavy deployment rotation into conflict zones. The recognition of the need for help has come through those interacting within the deployment process, not just the individual themselves.
"We have a good relationship with the folks that do the pre- and post-deployment, and even in-processing. If they identify Service Members in that setting, they have a direct understanding of potentially where to send someone," said Christensen.
After more than two decades of continuous conflict, the DBH and DMPC, as well as other programs like MFLC, have developed effective strategies to help Service Members, retirees and family members resolve their significant challenges and manage their stressors.
For more information, please visit Madigan's Official Social Media Links: 
Madigan's LinkedIn